Everything you need to get started with live streaming.
Although it's easy to find a list of best practices, tips, and tricks to do with streaming, it's important to note that a lot of them are just trying to sell a product. This guide is a genuine summary that I initially put together for myself. Live streaming has been life-changing for me, and hopefully, I'll be able to share some of that knowledge with you. This guide is constantly being updated so it might be a good resource to always keep bookmarked.
How to Live Stream (TL;DR Version)
Get a 1080p camera and a microphone
Download Streamlabs OBS software and create a scene
Choose a platform such as YouTube, Twitch, Facebook or Utreon
Get helpful tools from StreamLabs and StreamElements
Start your first broadcast!
Table of Contents
What is Live Streaming?
Live streaming is an extremely popular and effective way of interacting with your audience with engaging online content.
What started with a few people tuning in to their favorite webcast is now a multi-billion dollar industry catering to millions of content creators from around the world. So if you are not on a live streaming platform yet, you might be missing out on a world full of opportunities.
What do I Need to Live Stream?
When it comes to live streaming, the first step is to create the perfect setup. Sounds simple, right?
Yet, so many people struggle to get it right the first time. My job is to guide you through the entire setup process so you don't make the same rookie mistakes I did.
Camera
The first important piece of equipment you need for live streaming is a decent camera.
So, if you are a beginner looking to get started without burning a hole in your pocket, here are some good options to consider:
Your phone camera with a tripod
Logitech C920 webcam – $80
Logitech C930e webcam – $90
Logitech StreamCam webcam – $170
Mevo Start webcam – $400
Just remember that there are live streamers out there who started with nothing but a smartphone so as long as your camera can capture a minimum of 720p at 24 fps, you are good to go.
Microphone
Good video quality isn't enough, and you're gonna need good audio quality too if you want your viewers to stick around.
Clear communication is absolutely critical when it comes to engaging your viewers, so it's a good idea to invest in a proper microphone.
I have tried and tested many mics over the years and here's a list of my favorites:
Razer Seiren Mini – $50
HyperX Solo Cast – $60
Yeti Nano USB Mic – $90
Shure MV7 Podcast Microphone – $250
Streaming Software
You're gonna need an encoder to convert your video into a format that can be streamed. A more advanced setup with multiple cameras or audio sources will require a hardware encoder, but for most people, software is a better option.
The market is swamped with different types of streaming software but the ones I like are:
OBS Studio: It's free, open-source, and has a very active community of users.
Streamlabs OBS: This software is similar to OBS Studio, but with extra features added by Streamlabs. It's the most popular software for live streaming.
X Split: Although versatile and packed with features, you will need some prior encoding knowledge before you can use it. Also, the paid version is quite expensive.
vMix: The OG of streaming software has lots of great features but is not compatible with Mac OS and is fairly expensive.
When it comes to streaming, good streaming software can be the difference between success and failure. Although I typically recommend Streamlabs OBS for beginners, feel free to try out the other options on the list and see what works best for you.
Computer
Before you can find the right computer for streaming, you first need to figure out what your minimum requirements are. This will depend on what kind of content you'd like to stream and how many different cameras you'd like to use.
Basic Streaming Setup
If you're not planning to create gaming content and only need one camera, then all you really need is a basic setup:
CPU

This is the most important component of your computer because it has to process the stream.
I recommend getting at least a mid-range CPU to make sure your stream is smooth and your viewers do not encounter any lag or stuttering.

Graphics Card

An external graphics card is usually not needed unless you are streaming video gameplay.
For most other purposes, you can use the integrated graphics card that comes with your CPU.
However, we still recommend some sort of external graphics card to make sure that hardware limitations don't cause any lag.

Memory (RAM)

A minimum of 8 GB of RAM is needed to run a proper stream.
However, most streamers will go for 16 GB just to stay on the safe side.

Motherboard and Power Supply

For basic streaming, you don't need a fancy motherboard or an expensive power supply.
As long as these components work properly, you'll be fine.
Streaming Setup for Gaming
If you want to live stream modern video games, you will need a much more powerful computer than a typical streamer.
CPU

Live streaming a game requires a CPU that can not only run the game you are playing but also all of your streaming software at the same time.
In this scenario, I recommend a CPU that is both powerful and capable of running multiple threads at once. A CPU with at least 6 cores and 12 threads is ideal.
As of 2021, AMD's Ryzen series includes the best and most cost-effective CPUs for multi-threaded workloads. If you want to go with an Intel card, however, I would recommend an i5 or i7 card (10th gen or newer).

Graphics Card

If you want to play and live stream games, the integrated graphics card that comes with your CPU just won't cut it.
You will need a dedicated graphics card with enough power to play your favorite games.
The best cards currently on the market are made by Nvidia - specifically the RTX 3000 series. For most streamers, an RTX 3060, 3070, or 3080 will be plenty fast enough.

Memory (RAM)

If you plan on playing graphically demanding games while also streaming, you should definitely have at least 16 GB of RAM.
However, RAM is not very expensive these days, so I always recommend that gaming streamers go for 32 GB instead.

Motherboard and Power Supply

You don't need a fancy motherboard or an expensive power supply - even when gaming.
Since you will be using a high-end modern graphics card, it's important to make sure that your power supply can produce enough watts to keep it running. Otherwise, you will encounter stability problems such as crashing.
What is the Best Platform for Live Streaming?
Before we jump into the world of live streaming platforms with a ton of options to choose from, let's ask ourselves - what makes a streaming service good?
At its core, a good live streaming service should at least have a basic interface that supports video broadcasting, content management, and monetization. Anything on top of that is a bonus.
While some of these platforms are complex and geared towards professional streamers, others are free, minimalistic, and ideal if you are just starting out. Here's a list of the ones we like:
Utreon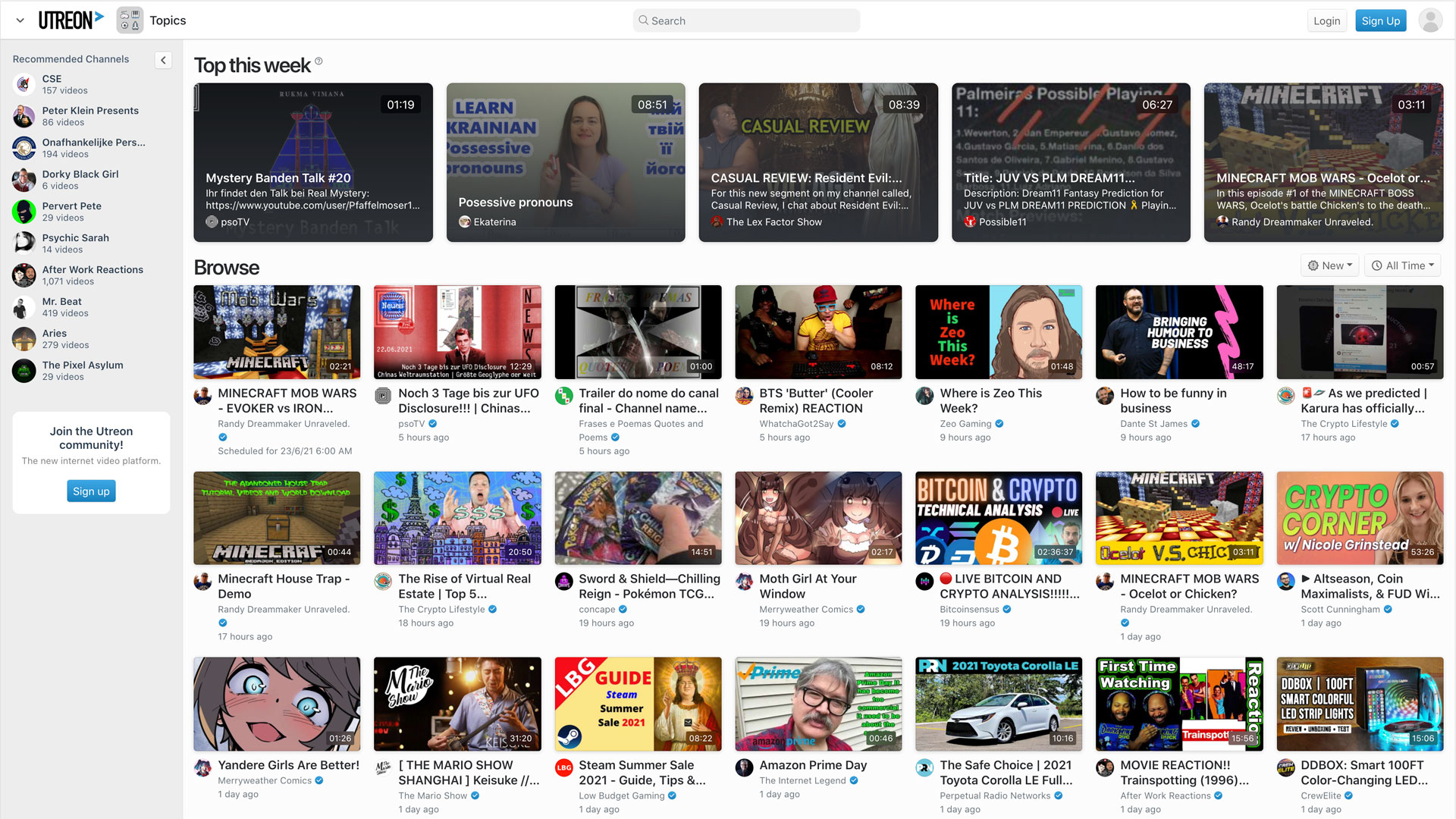 Whether you are a beginner looking to enter live streaming or a pro trying to scale new heights, Utreon offers a lot of opportunities for getting recognized.
Most streaming platforms today are saturated if not monopolized by big-name content creators. Utreon, however, is new and unexplored, presenting a range of opportunities. Getting in early gives you a first-mover advantage on a platform that's growing quickly.
YouTube Live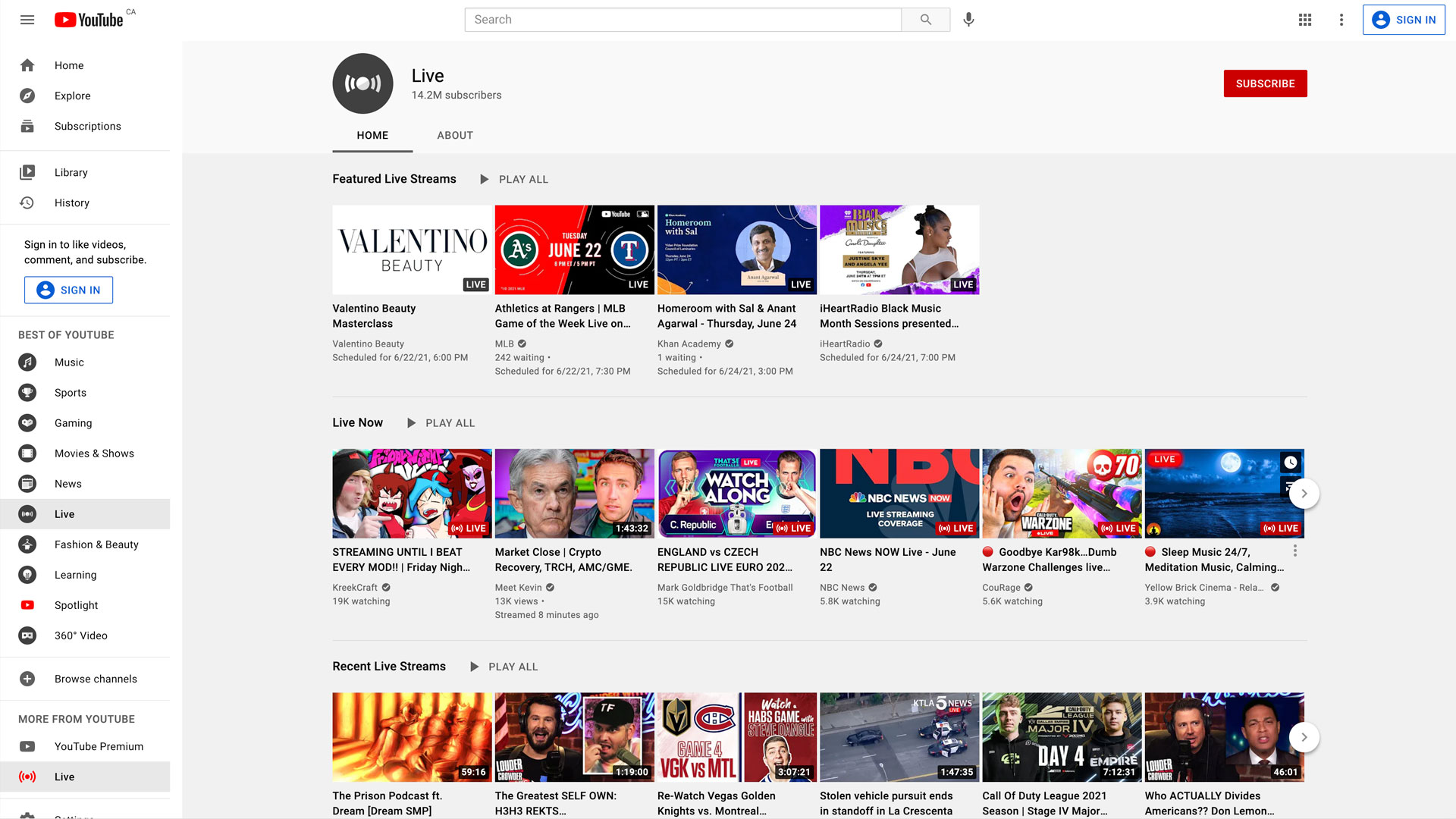 If you are David willing to take on Goliath, Youtube is for you. The oldest and biggest live-streaming platform in existence, Youtube has millions of creators competing for attention.
The platform offers plenty of features including analytics, monetization, video storage, and on-stream messages.
However, Youtube has a tremendous downside of being so large that it's easy for a newbie to get lost. So before you begin, ask yourself - "Am I okay with tirelessly working until, hopefully, the algorithm decides to recommend my content?"
Twitch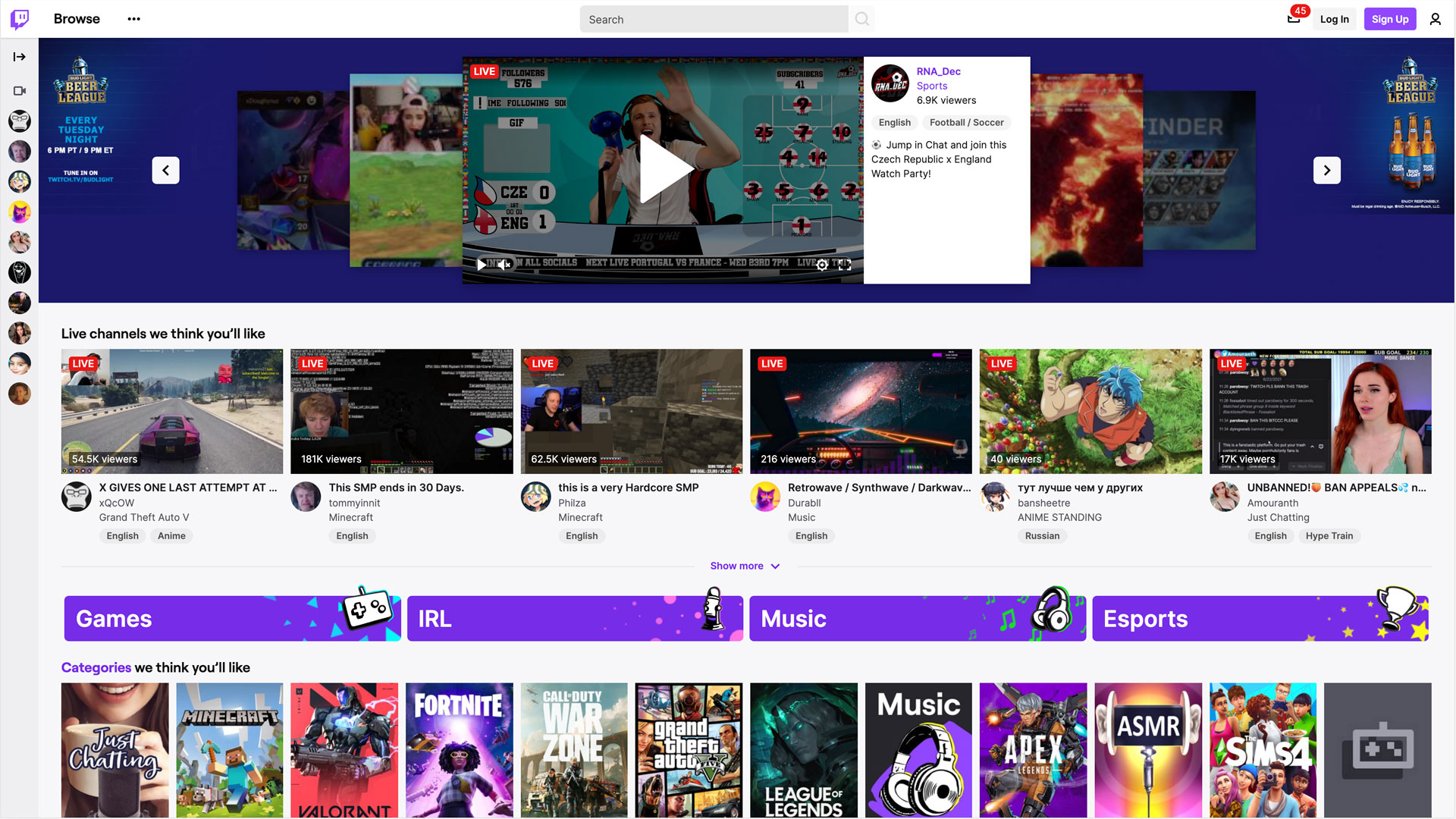 What started as a way for gamers to build an audience has expanded now to a platform with 1.8 billion hours watched globally every month.
Although Twitch is no longer exclusively for gaming, the platform is still very much dominated by this category and it can be difficult to gain traction with other kinds of content.
Another downside to Twitch is the way they implement copyright strikes and bans. For example, if a viewer decides to make a clip of your video, you can be penalized for having "published" that video. Unlike most platforms, Twitch does not give users any way to respond to DMCA complaints and will simply give creators a permanent strike on their record.
Facebook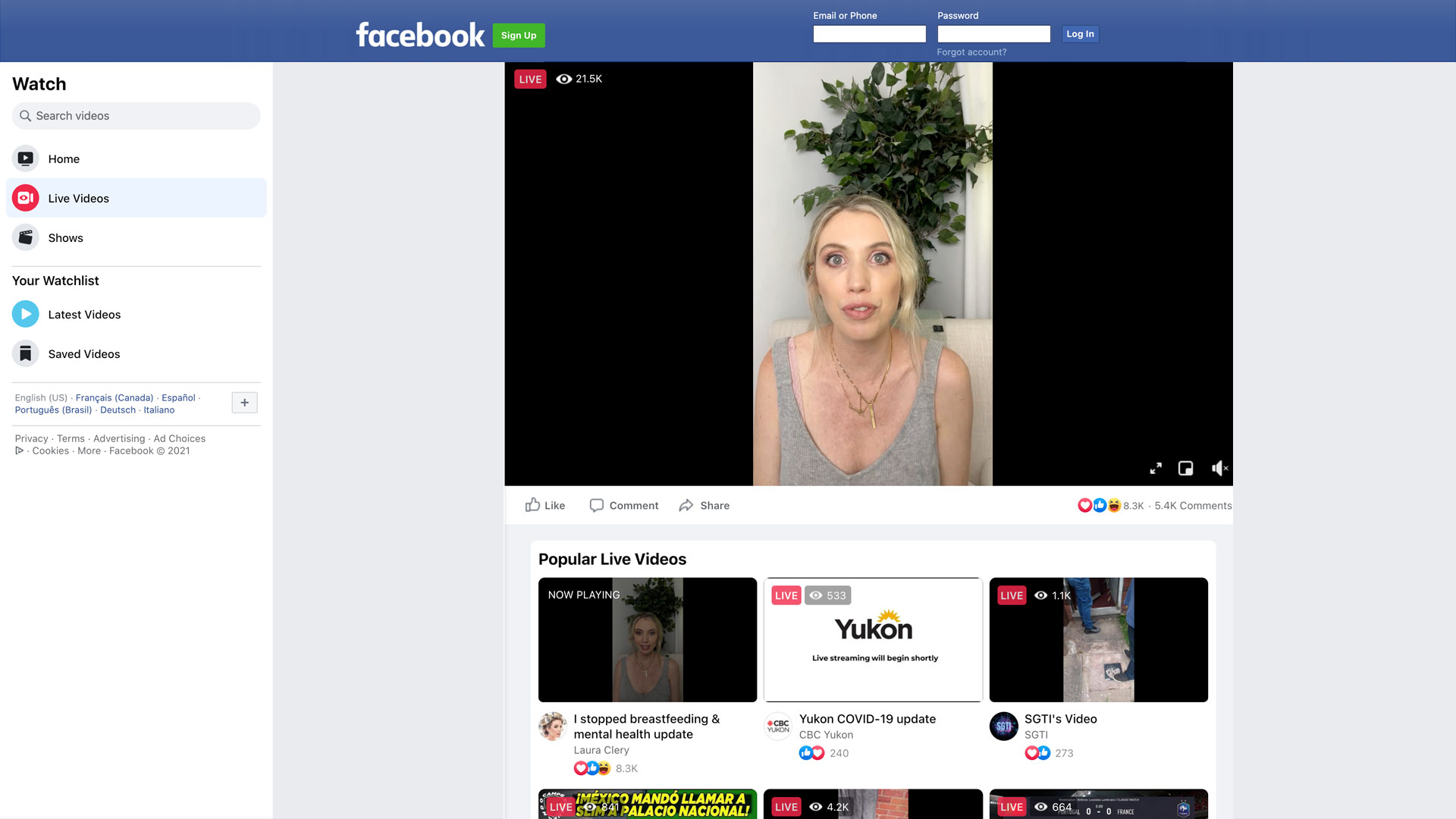 To jump in on the live streaming trend, Facebook recently launched a section dedicated to gaming and because of its reach, it soon gained some popularity.
Although Facebook is not as large as some other platforms when it comes to live streaming, it's definitely worth considering.
To make the most out of your live streaming journey, you're gonna need some tools in your arsenal. Although there are countless apps and services that can add features to your stream, here are the ones that I found to be the most important:
Merch store: Create a merch store to start selling shirts, hoodies, mugs, and other branded materials. The good tools, the setup process is very simple and only takes a few minutes.

Tipping page: Setup a tipping page to accept donations from your viewers. They allow you to choose from several different payment processors, such as PayPal.

Overlays: An overlay is essentially a graphic that is placed on top of a stream to make it look better, promote your brand or convey useful information to your viewers. Overlays are commonly used to create a border around the streamer's webcam box, display a logo or advertisement, or display full-screen announcements.

Alerts: An alert is a type of overlay that appears when a specific action occurs. These real-time notifications are most commonly used to display donations and new followers - which is important for fostering engagement.
Now that we've gone over some of the most important tools to keep an eye out for, here is a list of the most important tool providers to check out:
Stream Labs
In addition to their popular Streamlabs OBS software, Streamlabs also offers a variety of tools that are compatible with any live streaming software. These tools can really help you build your brand and make your streams more fun and engaging.
Most features are free and can be applied to your stream quickly and easily, which is why I always recommend that beginners check them out first.
Stream Elements
Stream Elements offers some of the basic features offered by Stream Labs, such as overlays and a merch store.
Although their suite of tools is not as comprehensive, they offer a ton of pro features that are worth checking out. Their chatbots and visual effects are really well made and can help you take your streaming to the next level.
Restream
Restream is a service that allows you to easily broadcast to more than 30 platforms at the same time, helping you to grow your audience. Managing so many platforms at the same time isn't as difficult as it sounds thanks to tools like Restream Chat, which combines your chats from every platform. Most of their tools are free and they have very good analytics software to help you stay on top of everything.
Conclusion
When it comes to live streaming, there are many different factors that need to be taken into consideration. To succeed as a new streamer in 2021, it's essential to have a good camera, microphone, computer, streaming software, and engagement tools. You also need to seriously consider which platforms you will be broadcasting on since you might otherwise miss good opportunities.
I know it's easy to feel overwhelmed as a beginner, and that's why I made this guide. You should now have all the technical information you need to get started and begin your live streaming journey.